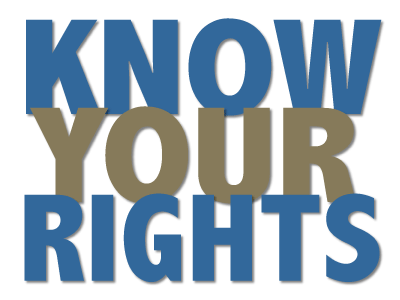 AADM "Know Your Rights" workshop is designed to help citizens protect their legal rights when interacting with (law enforcement) school or street officers;  while on the job or at a public establishment.  Attendees will learn more about the Civil Rights Act and how they are both protected and unprotected under current laws and policies.

Next Workshop: 2018 TBA 

Til then, always remember your general rights:
You have the right to remain silent.

You have the right to refuse to consent to a search of yourself, your car or your home.

If you are not under arrest, you have the right to calmly leave (as extra precautions you may ask before doing so)

Regardless of your immigration or citizenship status, you have constitutional rights.

You have the right to a lawyer if you are arrested.
If you would like to receive more info, attend 2018 Know Your Rights Workshop, or book an AADM educator to host a workshop at your location. Please fill out the form below: