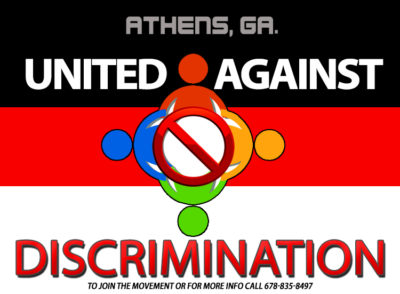 In an effort to combat discriminatory behavior and  create a more divers and welcoming environment in downtown Athens Ga, the Athens Anti-Discrimination Movement  launched the "United Against Discrimination" sticker campaign October 2016.
A
AD Movement goal is to encourage local business owners to place a sticker on their  front door or window to indicate that everyone is welcomed regardless of race, gender, age, sexual orientation, immigration status, etc.  
Individuals can also select to get a sticker or button.
This is an on-going campaign and we need volunteers to assist with sticker distribution. So if you would like to get involved please fill out the form below. 
Join The Movement:
Click HERE to view a list of local businesses owners support this sticker campaign.
Thank You In Advance, Mokah Jasmine Johnson.