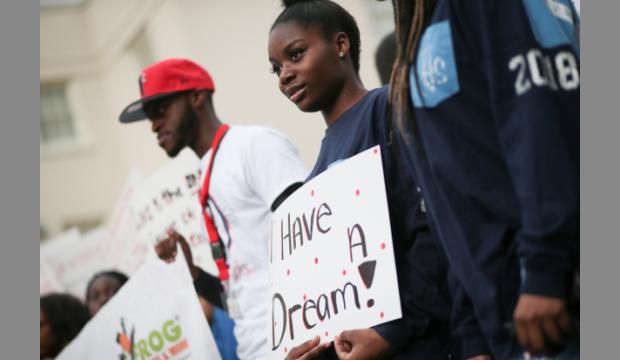 Athens Anti-Discrimination Movement presents
Community & Conversation: Changing Student Disciplinary Policies and Procedures in Athens-Clarke County
The Athens Anti-Discrimination Movement is working hard to ensure that all members of the Athens-Clarke County community receive fair and equal treatment.  One of the ways we're doing this is by hosting a series of events entitled Community & Conversation that allow members of our community to come together and discuss issues related to racial and social justice.  This includes addressing the Student Code of Conduct that the Clarke County School District is currently in the process of revising. The Code of Conduct is used to guide the administration of discipline in schools throughout the district.  This policy has a significant impact on our children's education and, ultimately, on their future.
In the US, statistics have consistently shown that black students are disproportionately impacted by school suspension and expulsion policies, particularly in southern states.  In 2015, the University of Pennsylvania's Center for the Study of Race and Equity in Education published a study on the Disproportionate Impact of K-12 School Suspension and Expulsion on Black Students in Southern States.  The report shows that in 2012, 75.9% of the students who received suspensions in the Clarke County County School District were black, despite the fact that black students made up only 52.6% of the CCSD student population that year.
Athens Anti-Discrimination Movement  believes that parent & community involvement in our education system is a vital to achieving equity and fairness for our schoolchildren.  To that end, AADM has organized an opportunity for parents and community members to offer feedback and learn more about will CCSD Student Code of Conduct.  This meeting will allow parents and community members to express their views on what the CCSD Student Code Of Conduct should look like, and it will be the last community input meeting held prior to completion of the policy revision.
The meeting will take place at 6pm on Tuesday, January 31st, at the Resource Center in Triangle Plaza, near Flanigan's Portrait Studio.  The Resource Center address is 585 Vine Street, Suite #1, Athens, Georgia  30601.  Food will be available courtesy of Dawg Gone Good BBQ.
Athens Anti-Discrimination Movement appreciates Clarke County School District's commitment to creating a space for community & family involvement in these important decisions, and we thank them for their efforts toward ensuring that every voice is heard.
Dr. Dawn Myers is CCSD's Executive Director of Policy and School Support Services, and Mr. Rob Rhodes is the Director of Projects for the Georgia Appleseed Center for Law & Justice, a nonprofit public interest law group that is working with CCSD to revise the Student Code of Conduct.  Both will be in attendance to provide information and receive  feedback at Tuesday night's meeting.
For more information please visit www.aadmovement.org or feel free to contact Mokah Johnson 678 835 8497.