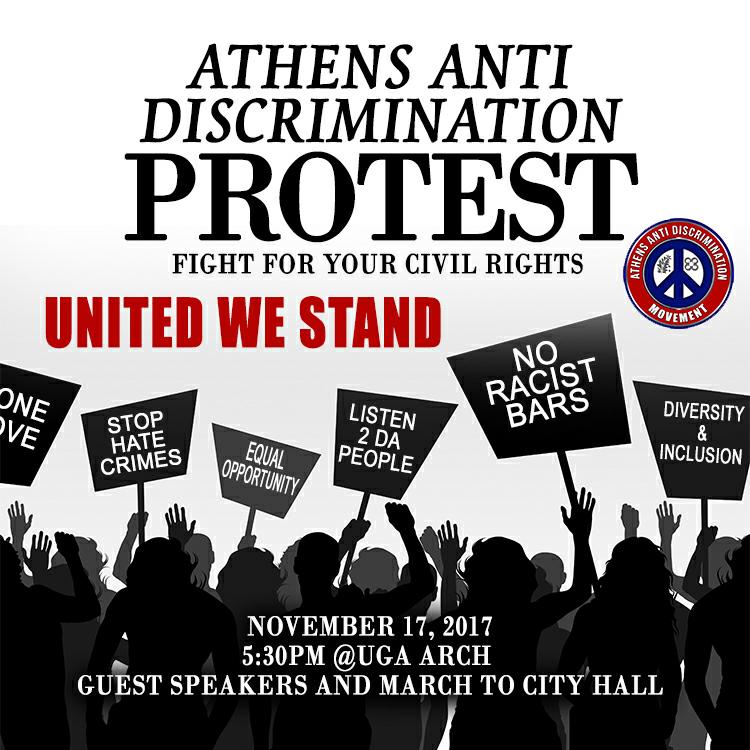 AADM calls community to action against persistent discrimination
Athens, Ga – The Athens Anti-Discrimination Movement will hold a protest rally at the UGA Arch on

Friday, November 17

, to publicize the second discrimination complaint filed against a Downtown Athens bar. The rally will begin at

5:30

and end at City Hall on College Avenue and include prominent local figures and political candidates such as Tim Denson and Ovita Thornton, in addition to Grady Martin, Mariah Parker, Beto Cacao, and more.
On November 8, a young man filed a discrimination complaint against Jerzees Sports Bar at the County Attorney's office with the assistance of an AADM civil rights advocate. The case marks the second time

in six months

that AADM's intervened on a person of color's behalf to expose prejudice of a local bar.

Friday's

event is a call to action and response to the persistent discrimination targeting the town's black and brown patrons.
"Within the past 90 days, AADM has received several discrimination complaints, especially regarding downtown bars. Yet this protest is not just about the bars, there is a bigger picture. This is about exposing systematic discrimination and racism in our community, encouraging others to step forward, and defending our civil rights," AADM President Mokah Johnson said.
The latest complaint is more tangible evidence of racist behavior that AADM's campaign sought to prevent during the long fight for an amended alcohol ordinance. All community members are encouraged to attend

Friday's

rally and march with a united voice.